Here are 5 sites picked by our team after carefully reviewing many different alternative health sites. They contain information on natural remedies for immune system health.
Hi everyone! We are back with another issue of our digest. This is going to be another amazing collection of 5 alternative health sites. Every week, we bring forward 5 alternative health sites that cover different topics of the alternative health realm. As you know, the scope of alternative health practices are quite broad and we are trying to pick up a unique topic every week. Last week we brought together sites that covered natural immune system enhancement. This week our topic is natural remedies for immune system health.
5 Sites Containing Natural Remedies for Immune System Health
We have the capacity to fight off diseases naturally with a strong and functioning immune system. There are several alternative methods to strengthen and boost your immune system health. Our immune system can also suffer from diseases and can malfunction. Below are five sites that contain valuable information on natural remedies for immune system health.
1. Homemade Medicine
Homemade Medicine is a natural medicine or homemade remedy website put together by the efforts of Charles Silverman, N.D. His aim was to list all the effective natural home remedies. He knows these treatments work because he himself has used them in his natural healing clinic, for the last 18 years.  He strongly believes that people have the power to heal themselves in a safe and cost effective way. This website is designed to educate you so that you can make informed choices in natural medicine.
Articles we like from Homemade Medicine
2. Homeveda
Homeveda contains Ayurvedic home remedies to strengthen your immune system. Ayurveda is a complete lifestyle that focuses on physical, mental and emotional health. This website offers quality information on Ayurvedic home remedies with their blogs, articles and videos.
Articles we like from Homeveda
3. Organic Facts
Organic Facts is an excellent source for unbiased information on organic food, nutrition, and health. They also provide credible and research based information on home remedies and organic living from cosmetics and gardening to organic stores.
Articles we like from Organic Facts
4. Southern Botanicals
Southern Botanicals is a source of educational information on herbal home remedies, immune boosting natural supplements and products with organic and wild-crafted ingredients. This website was founded by Ron Radstrom, who is a natural health enthusiast, who began his education in natural health in the early 1990's. He and his associates post informative blogs and articles, which are designed to help you improve your health naturally.
Articles we like from Southern Botanicals
5. My Body & Soul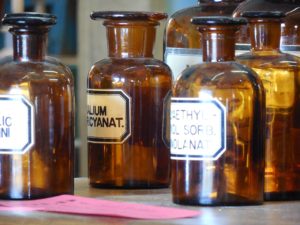 My Body and Soul promotes health and happiness through setting achievable goals, inspiration and community support. They offer tips and information on a wide variety of topics from diet, healthy recipes, fitness, relationships, and natural enhancement of mind and body; all the information you'll need to lead a happy and healthy life.  
You'll also like some of the useful tools provided on this site, such as the BMR calculator, hip to waist ratio calculator and so on.
Articles we like from My Body & Soul
We are really excited to bring these five sites together on this issue of our digest. Hope you'll go through these sites and benefit from their resources. We'll be back with another digest next week, so please check back with us.
For more health tips, subscribe to our blogs. Also, join us on our live webinars and ask your health questions. We'd also appreciate your comments on our Facebook page or in the comment box below.
Source: Alternative Health Concepts
Related Articles and Resources: